Our Annual Festival of Trees Event 2018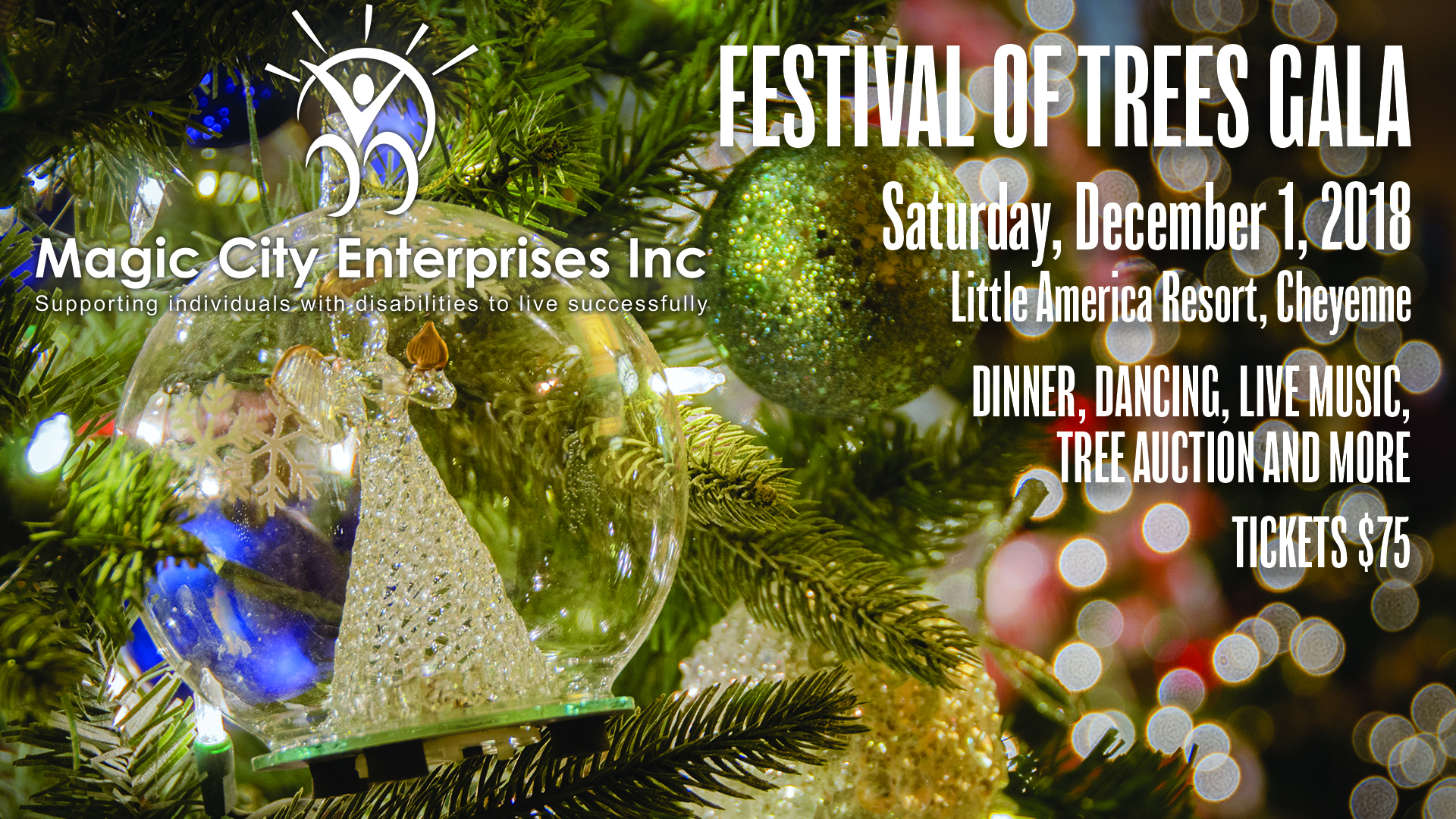 The Festival of Trees Gala is the annual fundraising event for the Magic City Enterprises Foundation.  It is an evening filled with fun and holiday spirit.  We promise a beautiful event where people can gather to kick off the holiday season.  Custom decorated holiday trees, wreaths and many other fine items that are donated by the Cheyenne community and are sold to further MCE's Purpose and Mission.  These trees are decorated and donated by community members who volunteer their time to support Magic City Enterprises in meeting the needs of the people we support.  There will be an exciting live auction of the trees, wreaths and other items, as well as, a silent auction of even more fine and unique pieces.  In addition to the auctions, there will be a catered meal, live music, dancing and a cash bar.
This year's Festival of Trees Gala will be held on December 1, 2018 at Little America Hotel in the Grand Ballroom  We expect over 300 people in attendance at this year's event, all of whom will be ready to bid on all of the wonderful items that will be available.
Tickets are $75 if purchased by November 15th and $100 thereafter. Sponsorship packages are available.  To purchase tickets, become an event sponsor or make a donation to the cause contact Susan Brown on 307-637-8869 or sbrown@mcewyo.org
Family Night on November 30:  The Festival of Trees opens its doors to the community to view the beautifully decorated holiday trees and wreaths. Last year, the free event attracted over 700 people who came to stroll through the trees, meet Santa, and enjoy children's crafts. We hope you and your family will join us this year for this fun holiday event.
Donors and Sponsorship Levels for 2018 Festival of Trees
| Sponsor Levels | Shining Star $5000 | Angel $3500 | Silver Bells $2000 | Snowflake $1000 |
| --- | --- | --- | --- | --- |
| Gala Tickets | 12 Tickets | 10 Tickets | 8 Tickets | 6 Tickets |
| Tickets for drink and raffles on high-end items | 12 Tickets | 10 Tickets | 8 Tickets | 6 Tickets |
| Recognition on the new website, Facebook, print advertising, and our newsletter | Top Billing | Yes | Yes | Yes |
| Recognition in the Gala Program | Top Billing | Yes | Yes | Yes |
| Sponsorship of tree, wreath or craft item with Business Logo which will be displayed during Family Night and the Gala | Tree | Tree | Tree | Wreath or Craft |
| Recognition during the Gala by Master of Ceremonies | Top Billing | Yes | Yes | |
| Recognition as MAJOR SPONSOR of both Family Nigh and the Gala | Top Billing | | | |
Our Festival of Trees 2017
Magic City Enterprises would like to Thank Everyone who sponsored, donated, and volunteered for our 2017 Festival of Trees.